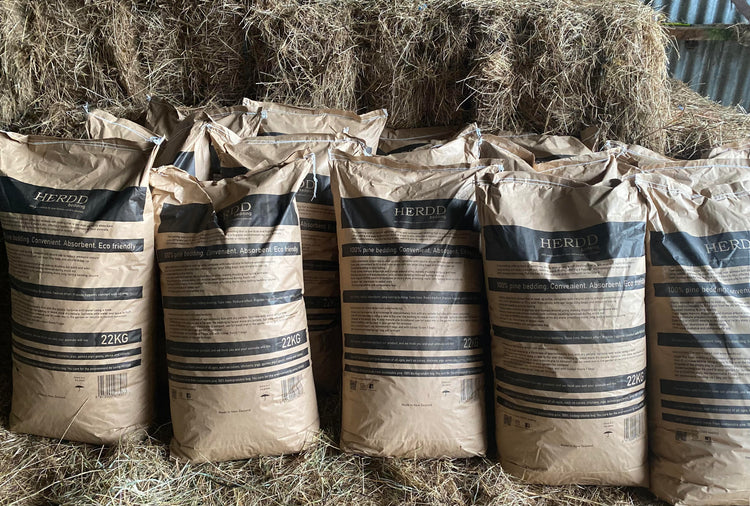 Why you should choose HERDD Horse Bedding for your Racing Operation St
What is HERDD Horse Bedding & how will it improve my Racing Operations stabling?
HERDD Horse Bedding is a pelletised pine bedding. 
Pelletized bedding for horses is a highly absorbent product that is compressed into pellets. It is then treated with high heat that sterilizes the bedding from insects and microorganisms. Dust and contaminants are screened out to improve air quality in stalls and barns.
What are the benefits of bedding pellets for horse stables?
HERDD bedding provides many benefits for both your operations and the health of your horse/s as outlined below.
Horse Pellet Bedding absorbs moisture better
With no bark, tar, chemicals or added resin, horse health is prioritised with HERDD Bedding.
Unsoiled bedding is long lasting for 12 months or more.
HERDD packaging is 100% compostable, as is the contents of the bag.
HERDD Horse Bedding finely coats manure droppings & clumps around urine, making mucking out quick & easy so you save heaps of time. 
You will drastically reduce the manure pile accumulation with the use of pellet bedding in your racing operation or stables. As HERDD Horse Bedding naturally clumps together where it is soiled, you will remove minimal amounts of bedding during muck out. Trust us, this has been tested!
Minimise mess during windy weather as HERDD bedding doesn't blow off as easily vs. lighter weight options.
Bedding pellets are excellent for odor control as it has a natural agent that helps neutralize and remove the ammonia smells from the urine.
In the long run, using bedding pellets will save you money on the amount of bedding you use, the removal and disposal of the waste heaps, and the storage space you need.
Each bag of HERDD swells to multiples of its dry state (~4x), providing more, long lasting bedding; meaning you no longer need a large shavings storage area.
Sport Horse delivers free if you are within 30km of our store in Feilding, offers discounts on bulk buys and subscriptions so you can worry about one less thing. 
We have sample bags instore in Feilding for you to trial or contact us if you have any questions!
And for more information, you can read more about HERDD Horse Bedding from the founder themselves: https://herdd.nz/